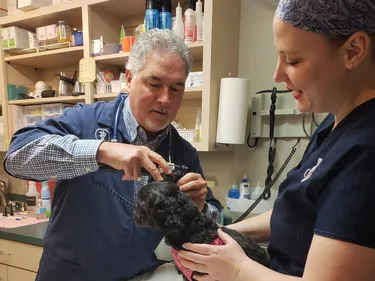 Commonwealth Animal Hospital is a small-animal veterinary practice in Harrodsburg, KY. CAH has been providing quality veterinary care to Mercer and surrounding counties for over 25 years.
Dr. Bosse began practicing in Atlanta, Georgia in 1989 at Briarcliff Animal Clinic. Working under 12 different veterinarians and at 3 different hospitals has helped him to have a wide-ranging knowledge of veterinary care.
He moved to Harrodsburg to raise his family in 1994. Since then, Commonwealth Animal Hospital has grown to include two associate veterinarians and undergone several expansion and renovation projects to include an updated surgery suite, state of the art kennel facility, cremation service, and physical rehabilitation suite.
We are now happy to offer professional Canine Rehabilitation Services including Underwater Treadmill and Cold Laser Therapy. Whether your pet just had surgery, is recovering from an injury, or needs doggie-weight-loss boot-camp, we have a solution for your canine companion!
At Commonwealth Animal Hospital, we treat your pets like the valued family members they are.